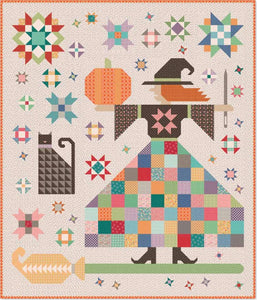 Introducing Bee Dots by Lori Holt!
Dot, dot, stitch, stitch, oh what fun this is!  
Bee Dots is a celebration of the fashionable and iconic print we all adore!  Lori rejuvenates the print in her classic and vintage style.  From florals with dots to dots on dots and available in colors like berry, pumpkin, marigold, basil and sea glass.
This new basic will inspire and delight oh-sew-cute quilts and projects for your home.  Each print is names after Lori's vintage relatives on her father's side of her family.

The Quilted Witch Quilt Kit includes pattern and fabric for quilt top and binding.

Finished quilt size is 76 1/2 x 89 1/2.

*Backing sold separately.