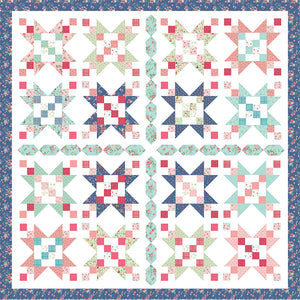 Introducing Enchanted Meadow by Beverly McCullough!
One of Bev's favorite things to do when she is not sewing is to curl up with a book and a cup of tea.  She has always loved stories set in forests, spent hours in Narnia, the Forbidden Forest, the 100 Acre Wood, and Watershed Down.  Enchanted Meadow is her own version of a storybook wood, filled with lots of pretty florals and of course little woodland friends.  So now we can curl up with a good book, a cup of tea, and an Enchanted Meadow quilt!

The Starry Meadow Quilt Kit includes pattern and fabric for quilt top and binding.  
Finished quilt size is 84 x 84.
*Backing sold separately.