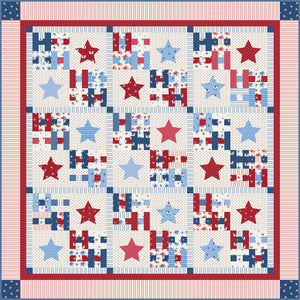 Prairie Days is the newest collection fromBunny Hill Designs and it is perfect for homage to the simple life!

Come with me and return to the simple life, where homemade is "best made", and neighbor helps neighbor.  Let's celebrate this good life together with Prairie Days.  Little prints in shades of Prairie Red, Dusk Blue, Sky Blue, and Milk White make this collection crisp and delightful.  Pet those sheep and hug your neighbor...it's time for some fun!

The Made in the USA Quilt Kit includes pattern and fabric for quilt top and binding.  

Finished quilt size is 48 x 48.

*Backing sold separately. You will need 3 1/8 yards.