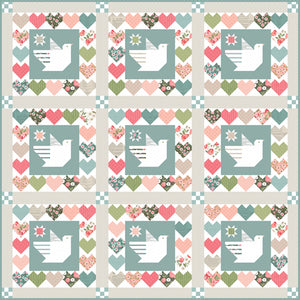 Introducing Love Note by Lella Boutique!
From the designer...
Every collection I've done has told a story.  This one is a message of love for my grandmother, Marguerite.  It's a Love Note.
She was a lover of flower gardens painting and reading, especially books by Louisa May Alcott.  For Marguerite, I've gathered sweet daisies, painterly roses, dainty hearts, a soft herringbone, and colored them in precious pinks, dusty blues and earthy greens.  You will even find a few pages from Grandma's antique copy of "Rose in Bloom".  May this Love Note find it's way into your heart.
The Lovey Dovey Quilt Kit includes pattern and fabric for quilt top and binding.  This kit comes in a keepsake box.
Finished quilt size is 72 x 72.
*Backing sold separately.  Order your Lovey Dovey Backing Set HERE.