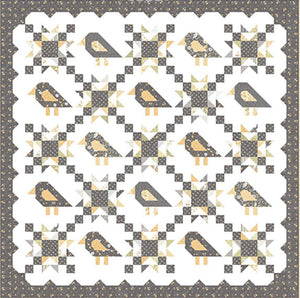 Introducing Buttercup and Slate by Corey Yoder!
With Buttercup and Slate, I invite you to relish those magical, fleeting moments when the warm sunny hues of late afternoon fade to gray, and slowly turn to night.
There are plenty of flowers, both large and small, to bring the colors of the sun into your home, the prettiest little starry-night bring will remind you to step outside and gaze into the night sky.  Honeycombs invite us to savor the sweetness of each day.  This collection includes a beautiful Grandmother's Flower Garden print filled with some of my favorite prints, both old and new.
The Fly Away Blackbird Quilt Kit includes pattern and fabric for quilt top and binding.  
Finished quilt size is 72 x 72.
*Backing sold separately.  You will need 4 1/2 yards for backing.  Buttercup and Slate yardage is in the shop.