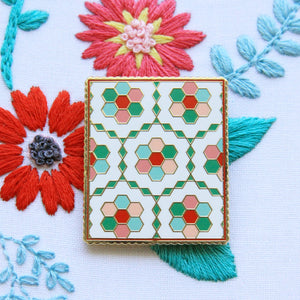 Vintage Flower Garden quilts are one of my favorite quilts and I love this tiny needle minder version of this quilt! It goes great with Rose Lane fabric projects too! (my newest fabric collection - hitting stores in September!) 
This needle minder will keep your needle easy to find during your embroidery, cross stitch or needlework projects. It has a super strong magnet also works great with paper piecing projects. Just place the needle minder on the front of your paper piecing and the magnet on the back. Easy peasy!
The Needle Minder has a strong magnet set attched to the back that allows you to hold the minder to your stitching without causing any problems with your materials. All you have to do is place your needle on the minder and the magnet holds it in place! No more putting your needle through your fabric and leaving extra holes, or worrying about dropping it.