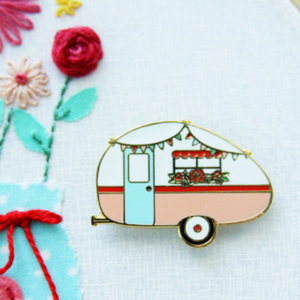 This little Vintage Camper is perfect for you all your stitching adventures! This needle minder will keep your needle easy to find during your embroidery, cross stitch or needlework project!


The Needle Minder has a strong magnet set attched to the back that allows you to hold the minder to your stitching without causing any problems with your materials. All you have to do is place your needle on the camper and the magnet holds it in place! No more putting your needle through your fabric or worrying about dropping it.

This camper needle minder is 1 1/2" wide so it works great even on a small embroidery project. Plus it's so super cute and adds a little flair to any embroidery project!