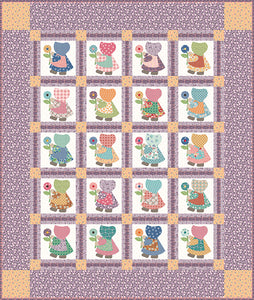 Introducing Bee Vintage by Lori Holt!
This is Bee Vintage, the latest Bee Basic by designer Lori Holt of Bee in My Bonnet.  In Lori's classic, vintage style, Bee Vintage features delectable florals and geometrics in a range of gorgeous colors like tea rose, melon, and lettuce.  Each print is names after Lori's vintage relatives on her mother's side of the family.  There are also two new wide backs and a delightful cheater print that's perfect for so many vintage-inspired projects!  Don't forget to check out Lori's coordinating notions and quilt patterns - they're 100% cute and oh-sew unto make!
The Sunbonnet Sue Quilt Kit includes fabric for quilt top and binding.
Finished quilt size is 71 x 84.
*Backing sold separately.