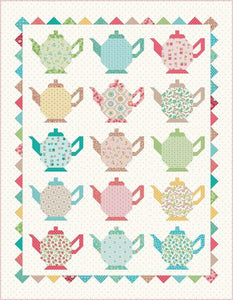 We are welcoming back the Granny's Teapots Quilt Kit by Lori Holt!!  We are celebrating with a Sew Along starting in October 2021.  
Our Granny's Teapots Quilt kit includes pattern and fabric chosen by designer Lori Holt from her Granny Chic collection for quilt top and binding.  Quilt finishes at 59" x 76".
*Backing sold separately.    
Quilt Kit cost will be $124.98.
Reserve this quilt kit now for $24.98 and pay the remaining $100 at time of shipment.  Reservation cannot be cancelled or refunded.
Prices are subject to change if fabric prices or requirements change.
**International customers, please be aware of our shipping policy and charges.**
Due in September 2021.