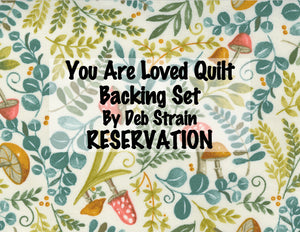 Backing set for the You Are Loved Quilt.  Backing set contains 3 1/4 yards of Children's Forest Floor - Cloud yardage from the Effie's Woods collection by Deb Strain for Moda Fabrics.
Cost of Backing Set will be $38.98.  Secure your backing with a $4.98 reservation fee which will be subtracted from your total due.  Balance due of $34.00 at time of shipment.
Reservations cannot be cancelled or refunded.