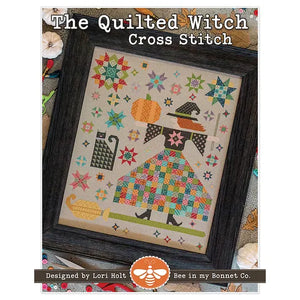 The Quilted Witch is a cross stitch pattern!  Yep, that's correct!  And we are planning to stitch it with Lori Holt as part of FUN-tober with Happy Little Stitch Shop!
Our Quilted Witch Cross Stitch Kit will ship in October 2022.  In your shipment you will receive:

The Quilted Witch Cross Stitch Pattern

Cloth in the count you prefer

DMC Floss Kit for the ENTIRE stitch
The Quilted Witch Needle Minder is in your kit!!
Reserve your spot with $1.98 reservation fee.  
Cost for this Stitch Along:
14 Count Aida = $102.98
25 Count Lugana = $129.98
36 Count Linen = $119.98
You will receive an e-mail invoice at the end of September for your stitch along kit. Packages will ship at the beginning of the each month.  One time fee plus shipping for your Stitch Along Kit.  This price includes everything needed to complete the cross stitch plus a cute little extra with the Quilted Witch Needle Minder!
Prices are subject to change due to cloth availability or unexpected supply delays.  Membership and monthly fees cannot be cancelled or refunded.
I hope you will join Happy Little Stitch Shop and Lori Holt and stitch along with us!