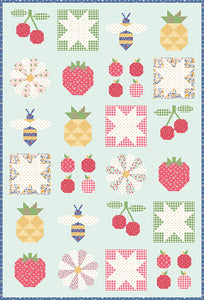 The Summer Picnic fabric collection was inspired by the events of 2020.  The events of 2020 left the designer, like many of us, with a lot of unexpected time at home.  Having spent years planning adventures to far away (and not so far away) places she found herself instead planning adventures in her own backyard.  
Fancy dinners out soon became "fancy" picnics in parking lots, backyards, and local parks.  Picture, warm summer nights filled with fireflies.  Giant picnic blankets spread out on the grass.  Baskets full of fresh locally-grown fruit, and parents and kids spending quiet evenings together.
The Summer Sugar Quilt Kit includes pattern and fabric for quilt top and binding.

Finished quilt size is 58 x 86.
*Backing sold separately. 
Quilt kit cost will be $179.98
Reserve this quilt kit now for $24.98 now and pay the remaining $155.00 at time of shipment.  Reservation cannot be cancelled or refunded. 

**International customers, please be aware of our shipping policy and charges.**  
Due in June 2021.