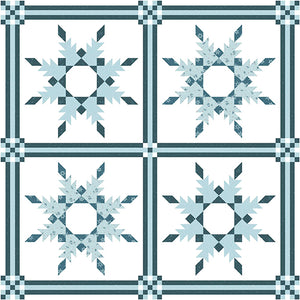 The Winterland fabric collection by Material Girl Quilts is inspired by the beauty and wonder of fresh fallen snow.  The cardinals, birch trees, spruce twigs, snowflakes and holly berries create a magical winter wonderland that will have you ready to snuggle up while you watch the snow fall.  In beautiful shades of deep red, teal, aqua and gray, this collection will be perfect for home decor that can stay out all winter long.

The Snowfall Quilt Kit includes pattern and fabric from quilt top and binding.

Finished quilt size is 63 x 63.
*Backing sold separately.