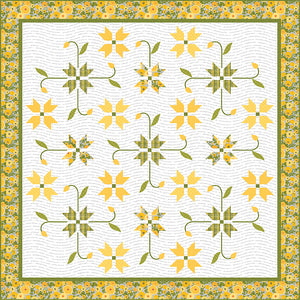 Petals & Pedals is the newest collection from Jill Finley and it is lovely!
From the designer...

Not far from my home is a beautiful natural park with lots of biking and hiking trails.  Locals know it as the site of a delightful tradition, "Going to the Poppies".  This park is the site of an old historical stone home which was built by some of the early founders.  Only a few of the stone walls of the house remain, but these pioneers left something else for us to enjoy, more than 100 years later - a field full of poppies!  Happy pedaling - and I hope you can find some poppies along the way!
The Meadowland Quilt Kit includes pattern and fabric for quilt top and binding. 
Finished quilt size is 83 x 83.
*Backing sold separately.