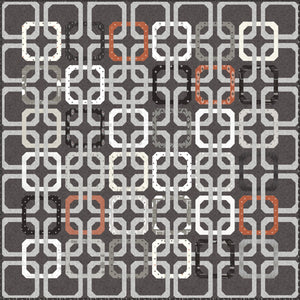 There is something sacred about being in the mountains.  Walk along the misty trail and fall in love with colors intensified by an overcast sky.  In my desert home, much of the earth is framed with rust colored mountains and majestic stone cliffs.  Some have been brushed with strokes of charcoal to match the richness of the lava fields.  Autumn often arrives late, and if you're lucky, you may get a glimpse of a drying leaf with the lightest dusting of snow.  The birds flying through the mist are silent...like me, they feel the reverence of being in such a mesmerizing place.
Nature has many kinds of beauty; the Smoke & Rust collection evokes the colors and textures of my beloved home, and is designed for masculine and modern tastes alike.
The Concord Quilt Kit includes pattern, panel, and fabric for quilt top and binding.  
Finished quilt size is 69 x 69.

*Backing sold separately.

Quilt kit cost will be $129.98

Reserve this quilt kit now for $24.98 now and pay the remaining $105.00 at time of shipment. Reservation cannot be cancelled or refunded.

**International customers, please be aware of our shipping policy and charges.**
*Prices are subject to change if there is a change in fabric requirements.

Due in April 2021.