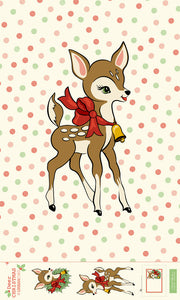 First it was Santa, then a big Snowman.  Now it's this retro Reindeer accompanied by polka dots, jingle bells, tangled lights, plaids, and checks. 


The colors bring the 50's - and mints! - to mind in shades of Peppermint Red, Spearmint Green, Coolmint Aqua, and Twinkle Yellow.
Panel measures 54 x 90.