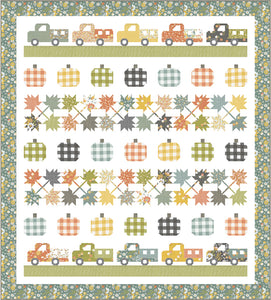 Cozy Up is the newest collection from Corey Yoder and it is perfect for Autumn!

I love the coziness that Autumn brings, and the anticipation of the Holidays that comes with it.  Cozy Up invites you to "cozy up" with your favorite book and a beautiful quilt.  This collection reflects the colors of the changing season with rich yellows, oranges, greens, grays, and teal.  The prints in Cozy Up pay homage to Autumn with leaves, acorns, and fall flowers.  

The Roadside Harvest Quilt Kit includes pattern and fabric for quilt top and binding.  This kit comes in a keepsake box. 

Finished quilt size is 72 x 80.

*Backing sold separately. You will need 5 yards.