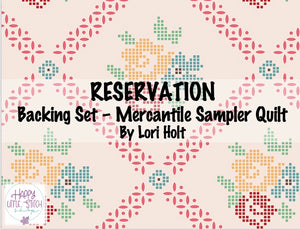 Backing set for the Mercantile Sampler Sew Along quilt from Mercantile.  Backing set contains 2 3/4 yards of Multi Adore Wide Back yardage from the Mercantile collection by Lori Holt for Riley Blake Designs.
Cost of Backing Set will be $58.98.  Secure your backing with a $4.98 reservation fee which will be subtracted from your total due.  Balance due of $54.00 at time of shipment.
Reservations cannot be refunded or cancelled.